Thanksgiving is one of those events than can be an emotional roller coaster. As a result, people seem to either love it or hate it.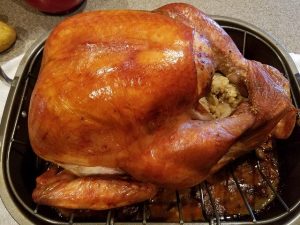 As a child, I loved Thanksgiving. Extended family would gather at our house, both leaves were added to the table, and the fancy linen tablecloth was brought out. Even when we had so many people that I had to go to the kid's table (a card table with another fancy cloth on it), it was special. Because of the food!
The menu was predictable: turkey, stuffing, mashed potatoes & gravy, cranberry sauce, corn or beans, Mom's homemade bread, Mogen David wine, green and black olives. I was notorious for sneaking the black olives out of the dish on the table ahead of time, although my sister did, too. It got to the point where Mom would by an extra can and stash it in the cupboard "just in case". (It was used more than once.) Dessert was usually pies. Mom made mincemeat, a wonderful pumpkin chiffon by which I still judge all others, and apple, or cherry or blackberry. Depending on the guests, there might also be candied yams, fresh homemade cranberry sauce or relish (or canned), a green salad, and maybe a cake.
Of course, when we moved away from most of the relatives — and as we girls grew up, married, divorced, moved away, moved back — things changed. Turkey was still the central focus, but the sides changed according to who wanted to try something different, and we changed to what my sister called "real" wines. Instead of the women moving to the kitchen to clean and gossip while the men took over the living room for their own gossip and football, the after dinner changed to card games and jigsaw puzzles.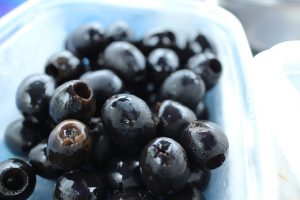 Slowly, other dynamics changed, and it wasn't as much fun anymore. The pivotal moment came one Thanksgiving sometime in the 1990s. The event had already moved to the sister's house with the young children, having more room than Mom or the rest of us. But then, instead of checking with us what we wanted to bring as usual, she dictated to us what each of us would bring, to the extent that she gave me the recipe I was to use for the green bean casserole and told our mom where to buy the bread rolls.
The tension was so thick you'd need a hatchet to cut through it.
After that fiasco, I told my Mom point-blank that I wouldn't be in town for Christmas. I found a bed & breakfast open on Christmas several miles and a ferry boat away. I didn't know a soul when I arrived, and I had a wonderful time. I managed to score a Thanksgiving invite elsewhere the next year with Christmas at the same B & B, and the following year enjoyed Thanksgiving with the B & B's owner as part of her family — biological and created.
That broke the cycle for me. Whether I spent Thanksgiving with my own family or others' after that, I was able to be thankful without being quite so stressed about it.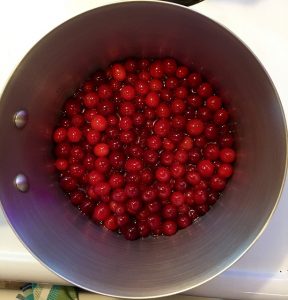 Since meeting my husband, the same cycle has played out. If my mother-in-law insisted on hosting, we would attend one holiday or the other if in the area, but then would stay home for the other. While at the RV park, we'd smoke turkey and ham (Hubby hates turkey) and invite the people in the park we knew would be home alone. Whether they brought something or nothing, they were welcome.
My mother-in-law is gone, and we've moved from the RV park, so I'm not sure what will happen this year. I'd just as soon not do anything special for Thanksgiving. I won't deal with the rest of my in-laws and their dramas. I'd prefer the time to put up Christmas decorations on our house (still moving and too tired to do so last year) and enjoy my husband being home from work on the road. A couple he has worked with might come for the weekend, and that would be fine. They're low-key and good company.
But just because I don't go all out doesn't mean I won't be thankful.
I have a roof over my head, food to eat, a spoiled dog, a loving husband. He's working, we're both reasonably healthy. I still love my crazy biological family, and I have "created" family far and wide. I've become more thankful on a daily basis, taking the onus off that single day. I like it that way.

I am thankful to God for changing that focus, for the freedom I have to reach out to others, to encourage, uplift and extend love and grace as I've received them. That is what thanksgiving now means to me; I neither hate it nor need the capital T.