It's OK to be mad at God. Really.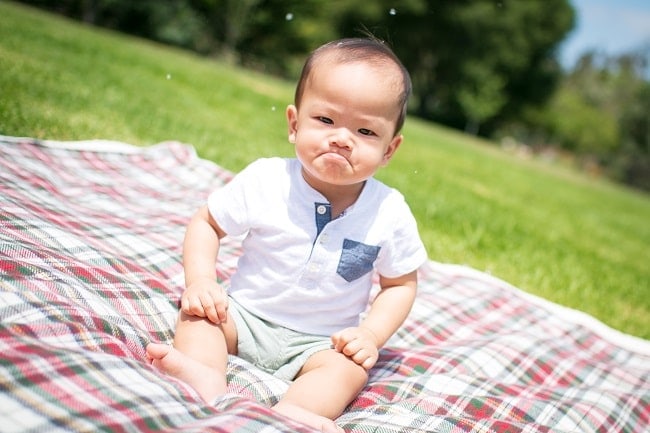 It took me a long time to figure this out. And I think it applies to everyone, regardless of your spiritual tradition, but I will speak from my own Christian background, as that is what I know best.
The first time I really got mad at God, I was twenty-one and my fiancé had just broken up with me. His pastor had told him that, as a new Christian, he needed to concentrate on getting to know God instead of getting married. That his pastor was under thirty and divorced himself didn't seem to matter. (No hidden agenda there!) The reasoning seemed logical, and how can you argue against getting to know God better?
Looking back, we were probably both too young, still figuring out who we were and who we wanted to be. But it still hurt. A lot. I went through a belated teen rebellion at that point, mad at my ex, mad at his pastor, mad at men in general, and mad at God. But I didn't call it that.
I called it whining.
After all, if God is all-powerful, all-knowing, and knows what's best for me, how can I possibly be mad at him? Isn't that sacrilegious?
During this time, I took a lot of comfort in the books of Jeremiah and Lamentations. Here was a man being persecuted for doing what God told him, and he complained about it! To God himself.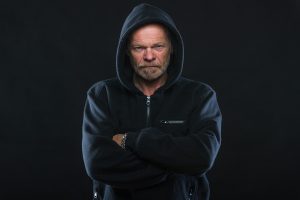 Here's one example from Jeremiah 12:1. "You are always righteous, O Lord, when I bring a case before you. Yet I would speak with you about your justice: Why does the way of the wicked prosper? Why do all the faithless live at ease?" (all passages from NIV)
And in Jeremiah 20:7, after spending a day and night in the stocks at the hands of a priest who didn't like his prophecies, he complained: "O Lord, you deceived me and I was deceived; you overpowered me and prevailed. I am ridiculed all day long; everyone mocks me."
Yes, Jeremiah complained a lot. About his persecutors and about how he felt God was treating the people of Judah. And God didn't strike him dead for it. I took (and still take) comfort in that.
Sometimes, Jeremiah couldn't seem to make up his mind. In the middle of his rant in chapter 20, he switched gears to the following in verse 11: "But the Lord is with me like a mighty warrior, so my persecutors will stumble and not prevail."
But by verse 14, the complaining is back, "Cursed be the day I was born!" and more along that vein.
After a few years, I admitted that I was mad at God. Things weren't going the way I thought they should — the way I thought that he wanted my life to go. There were a lot of things happening; I was lonely, confused, and depressed.
It was during this time that I realized that Jeremiah had often been mad at God, not just whining.
And then there's Jonah.
Most folks recall the bit about Jonah being swallowed by the whale. But that's not the full story. It's a quick read — only 4 short chapters — and I encourage everyone to read it, whether it's familiar or not. (Here's a link to the book in the NIV. Many other versions are also online.)
To summarize, after the whale (or great fish) episode, Jonah prophesied to the people of Nineveh. With over 120,000 people, it was the largest city in Assyria, which had already destroyed the northern kingdom of Israel. Jonah told them that the Lord was going to destroy the city in forty days. From the King on down, the people fasted and mourned and begged God to relent.
Here's what happens, picking up the story from Jonah 3:10-4:4:
"When God saw what they did and how they turned from their evil ways, he had compassion and did not bring upon them the destruction he had threatened.
But Jonah was greatly displeased and became angry. He prayed to the Lord, 'O Lord, is this not what I said when I was still at home? That is why I was so quick to flee to Tarshish. I knew that you are a gracious and compassionate God, slow to anger and abounding in love, a God who relents from sending calamity. Now, O Lord, take away my life, for it is better for me to die than to live.'
But the Lord replied, 'Have you any right to be angry?'"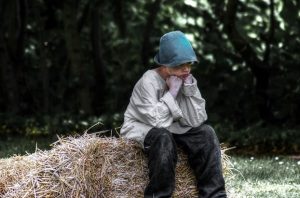 Jonah wasn't done with his hissyfit, however, and went outside the city to pout, hoping God would punish Nineveh after all. He wanted Revenge! So God used a shade plant, scorching wind and hot sun to try to get his point across — He cared about all those people!
And when Jesus was on the cross and quoted the Psalms saying, "My God, my God, why have you forsaken me?" (Matthew 27:46), could that not be anger as well as despair? Therefore, I was in good company being mad. And slowly, through different means and people, I realized that God has big shoulders. He can handle my complaints and my anger.
That's when I understood how Jeremiah could be so negative, could list so many reasons for his despair, and yet suddenly start in on praises. In the midst of his Lamentations, after listing all sorts of things that would happened to the people and had happened to himself, Jeremiah goes on to say, "Yet this I call to mind and therefore I have hope: Because of the Lord's great love we are not consumed, for his compassions never fail. They are new every morning; great is your faithfulness." (Lamentations 3:21-23) Other translations, such as the RSV say, "The steadfast love of the Lord never ceases, his mercies never come to an end."
To me, that says that God's love prevails. Whether I see it or not, whether I understand it or not, whether I'm happy, sad, or even angry at God. The love of God doesn't rely on me, but on God's nature. God is love and the source of love. (See 1 John 4: 7-8)
If God isn't going to hold my anger against me, then I don't need to hold it against myself. There is freedom in that concept: freedom from unrealistic expectations, freedom from judgement, freedom from anger that eats you up from the inside out.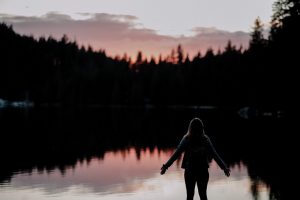 It was in this mindset of God's love and freedom that I began to comprehend what grace is about. I say began, because I see it as a lifelong journey or pilgrimage: not in miles, but in thoughts and words and actions, to discover how God's love and grace work in the world today, and in my own life. Here, and now.